Prize Winners at Environ
The ESAI Student Competition at Environ has been running since 2004. Congratulations to the prize winners of previous Environ student competitions for their presentations and posters and many thanks to all our sponsors. Looking forward to adding some more winners at this years competition at Environ 2022.....
Environ 2021 ERI, UCC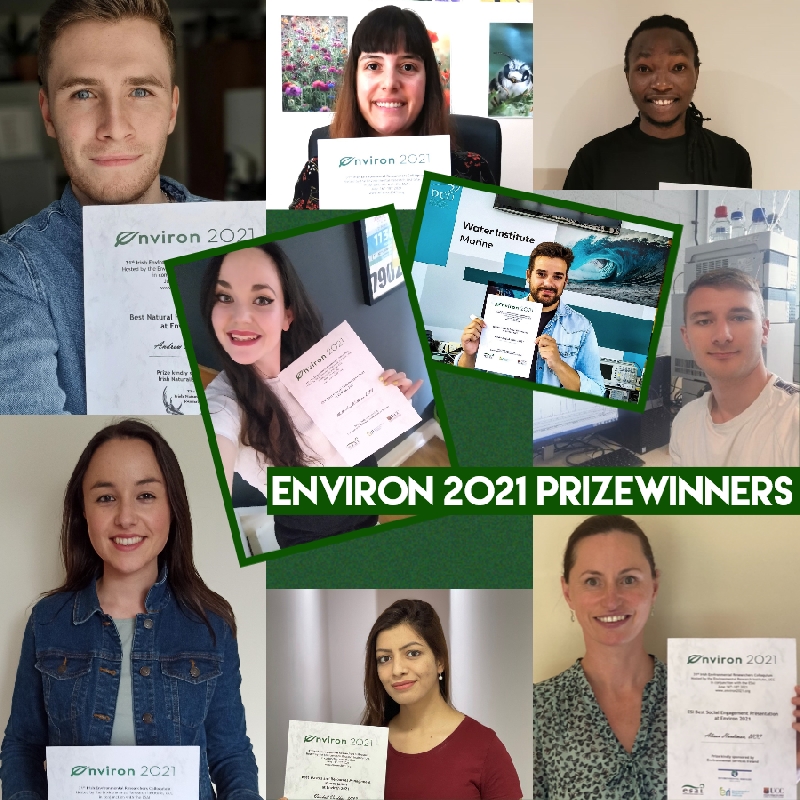 Best Oral Presentation - Molly Ann Williams (DCU), Best Poster Presentation – Adrian Delgado Ollero (DCU), Best Postdoctoral Presentation – Dr Martin Boudou (TU Dublin), Best Environmental Geoscience Presentation – Niamh Faulkner (TCD), Best Wastes and Resources Management – Vaishali Vardhan (UCC), Best Social Engagement Presentation – Alison Hardiman (UCC), Best Ecology Presentation - Elena Zioga (TCD), Best Water Related Presentation – Brigid Hooban (NUI Galway), Best Natural History Presentation – Andrew Neil (TCD), Best Analytical Chemistry Poster – Dylan O'Flynn (DCU), Richard Fitzgerald Memorial Prize for Best Aquatic Environment Poster – Tapiwa Nyakauru (WIT).
Environ 2020 DCU Water Institute
Best Oral Presentation – Merissa Cullen (NUIMaynooth), Best Poster Presentation – Tristan Nolan (UCD), Best Social Engagement Presentation – Eithne Davis (IT Sligo), Best Analytical Chemistry Poster – Stuart McMicheal (UU), Best Natural History Presentation – Kerry Ryan (Teagasc Research Centre & NUIG), Best Wastes & Resources Management Presentation – Ross O'Sullivan (CIT), Richard Fitzgerald Prize Best Aquatic Environment Poster Presentation – Jayne Stephens (UCD), Best Water Related Presentation – Ruben de la Torre Cerro (UCC)
Environ 2019 Institute of Technology Carlow

Best Oral Presentation – Felipe Guapo (NUI Maynooth), Best Poster Presentation – Sean O'Connor (IT Sligo), Best Biodiversity Presentation – Alan McCarthy (UCC), Best Wastes & Resources Management Presentation – Annija Lace (IT Carlow), Richard Fitzgerald Prize Best Aquatic Environment Poster Presentation – Raymond Wilson (UU), Best Soils Presentation – Aoife Egan (IT Carlow), Best Water Related Presentation – Conall Holohan (NUI Galway)
Environ 2018 Cork Institute of Technology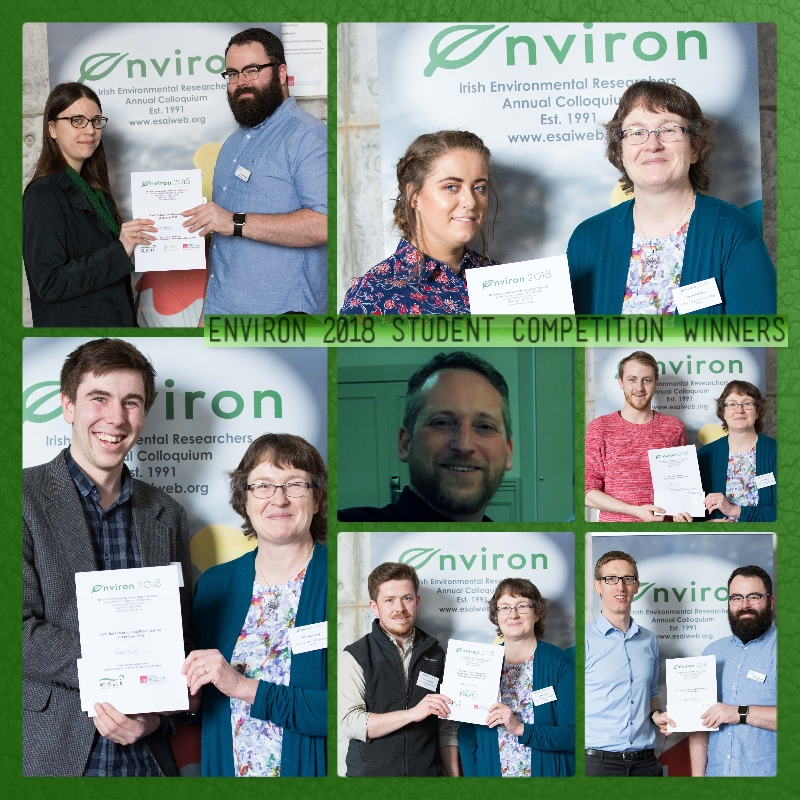 Best Oral Presentation – Cian White (TCD), Best Poster Presentation – Sinead Morris (IT Carlow), Best Air Quality Presentation – David Kelleghan (UCD), Richard Fitzgearld Best Aquatic Poster Presentation – James O'Connor (GMIT), Best Plant Biology Poster Presentation – Laurence Kavanagh (IT Carlow), Best Biodiversity Presentation Sarah Gabel (TCD), Best Soils Presenation – Darren Heenan Daly (UCC), Best Wastes Resources Management Presentation – Shane Merrit (CIT), Best Water Related Presentation – Gary Kett (UCC)
Environ 2017 Athlone Institute of Technology
Best Oral Presentation – Aoife Hayes (CIT), Best Poster Presentation – Maya Hotta (AIT), Best Air Quality Presentation – Paul Buckely (UCC), Best Climate Change Presentation – Rosemary Byrne (UL), Best Wastes and Resources Management Presentation – Elisa Di Carlo (UL), Best Water Presentation – Greg Beechinor (UCC), Best Biodiversity Presentation – Paula Tierney (TCD), Best Soils Presentation – Nicholas Waters (NUIG), Richard Fitzgerald Memorial Best Aquatic Environment Poster Presentation – Daithi Maguire (NUIG)
Environ 2016 University of Limerick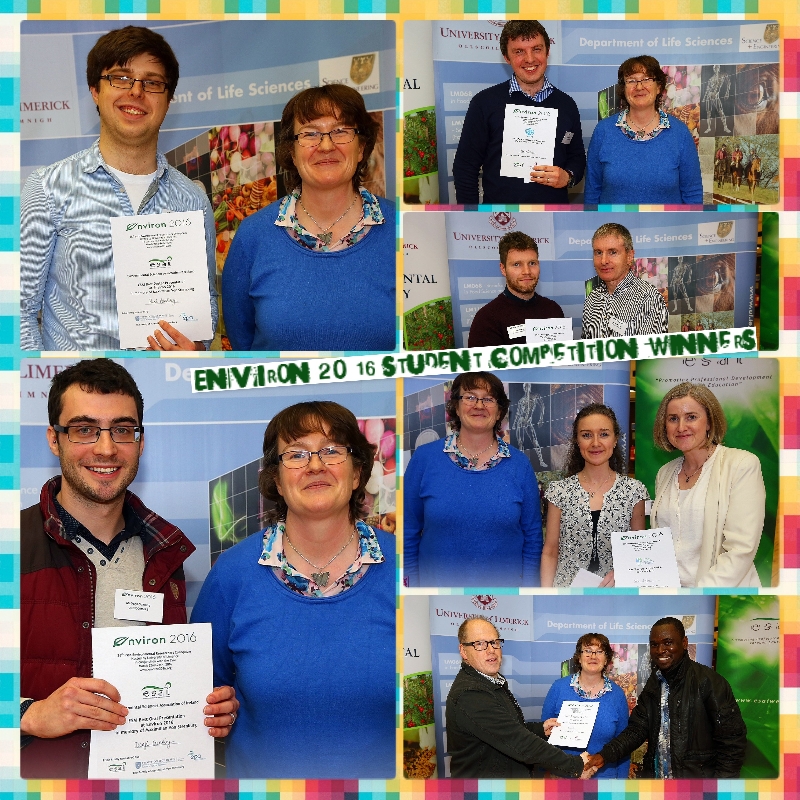 ESAI Best Oral Presentation - Daryl Gunning (UCC), ESAI Best Overall Poster Presentation - Paul Buckley (UCC), Best Water Based Presentation - Derek Higgins (University of Limerick), Best Waste and Resource Management Presentation - Tom Wallace (UCD), Best Soils Presentation - Israel Ikoyi (UL) Best Biodiversity Presentation - Tara Dirilgen, UCD
Environ 2015 Institute of Technology Sligo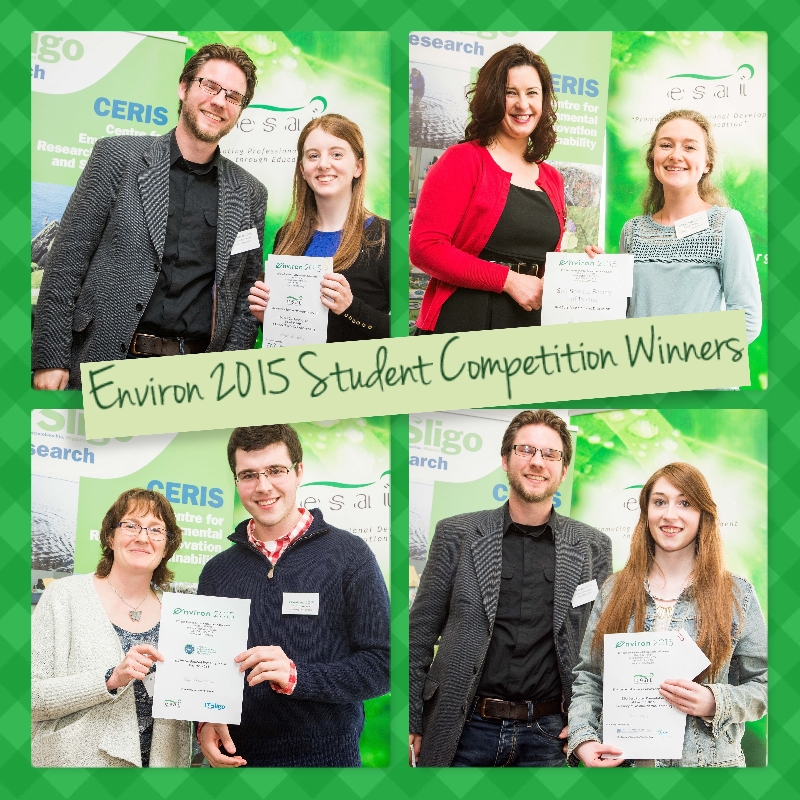 Best Oral Presentation – Alwynee McGeever (TCD), Best Poster Presentation – Kate Moore (UCD), Best Water Related Presentation – Greg Beechninor (UCC), Best Wastes and Resources Management – Jan Gottsche (GMIT), Best Soils Presentation – Tara Dirilgen (UCD), Best Biodiversity Presentation – Pamela Boyle (IT Sligo)