Student Prizewinners at Environ 2020
For many years, the ESAI has run a competition for the best student presentations at the Environ Colloquium.
Each prize was announced at the prize giving ceremony at the close of conference. Each winner will be invited to submit an article on their research project to the ESAI Website and the ESAI Newsletter, and receive publicity from their sponsor.
Congratulations to this years winners and a huge thanks to all our sponsors. The winners of the Environ 2020 student competition were:
ESAI Best Oral Presentation (€500) sponsored by Environmental Sciences Association of Ireland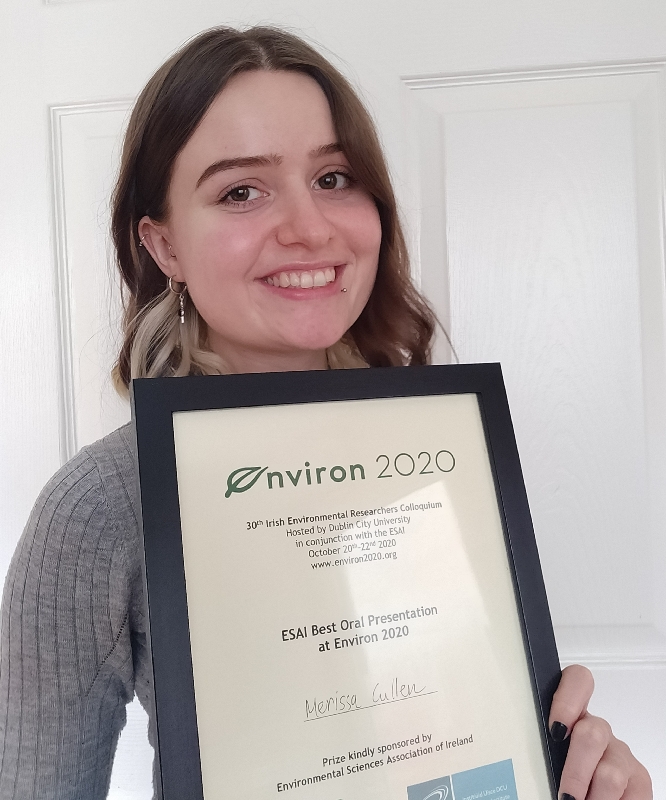 Merissa Cullen, NUI Maynooth - Comparison of active ingredient and commercial formulated glyphosate on the brain and digestive tract of the bumblebee Bombus terrestris
Read more about Merissa's research
ESAI Best Poster Presentation (€250) sponsored by Environmental Sciences Association of Ireland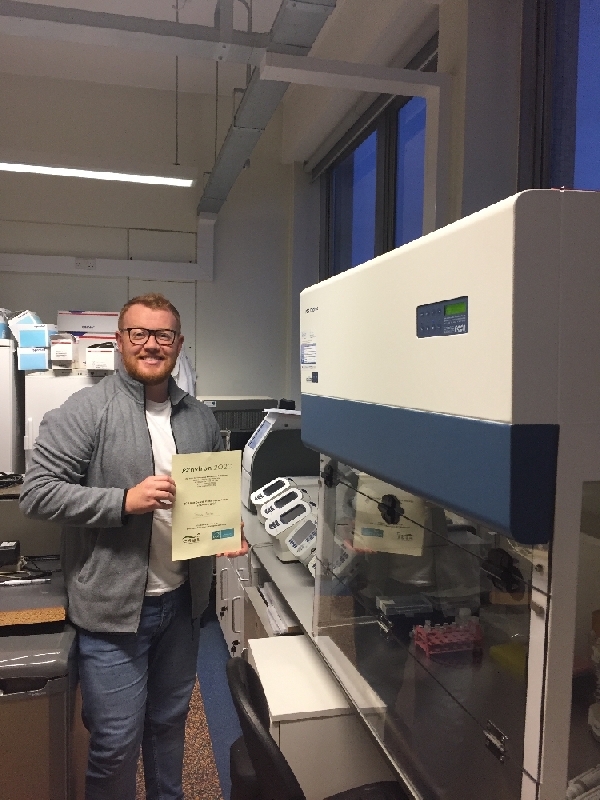 Tristan Nolan, UCD – Antibiotic resistance genes in bacteria and bacteriophages: A land use study of rivers
Read more about Tristan's research
Best Social Engagement Presentation (€250) sponsored by Environmental Services Ireland
Eithne Davis, IT Sligo – Horizon scan of invasive alien species - Predicting the next invasions for the island of Ireland
Best Analytical Chemistry Poster (€250) sponsored by Eurachem Ireland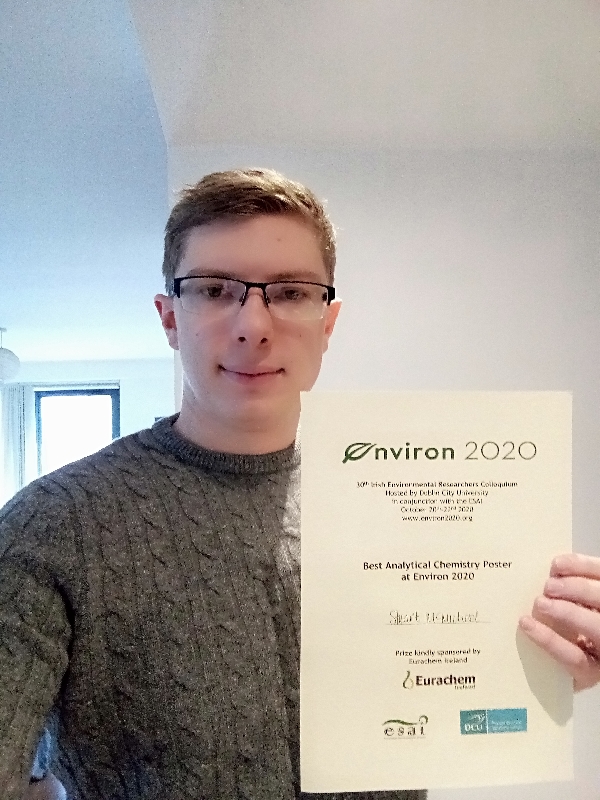 Stuart McMichael, University of Ulster – Evaluation of a photoelectrocatalytic reactor for water remediation
Read more about Stuart's research
Best Natural History Presentation sponsored by Irish Naturalists Journal (€250 & 12 month subscription to the Irish Naturalists Journal)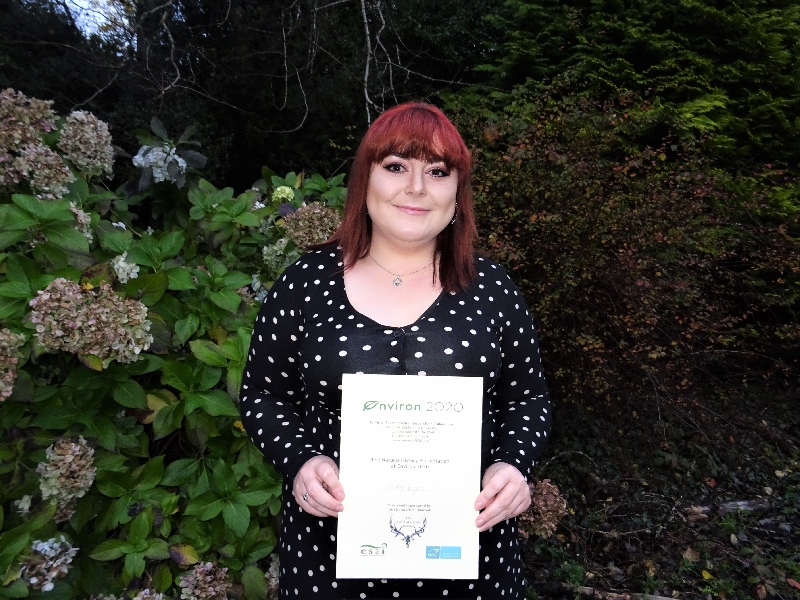 Kerry Ryan, Teagasc Research Centre & NUI Galway – Understanding the effects of multi-species grasslands on the diversity and function of the soil microbiome for improving resource use efficiency and mitigating the effects of climate change
Read more about Kerry's research
Best Water Related Presentation (€250) sponsored by Chartered Institution of Water and Environmental Management (CIWEM)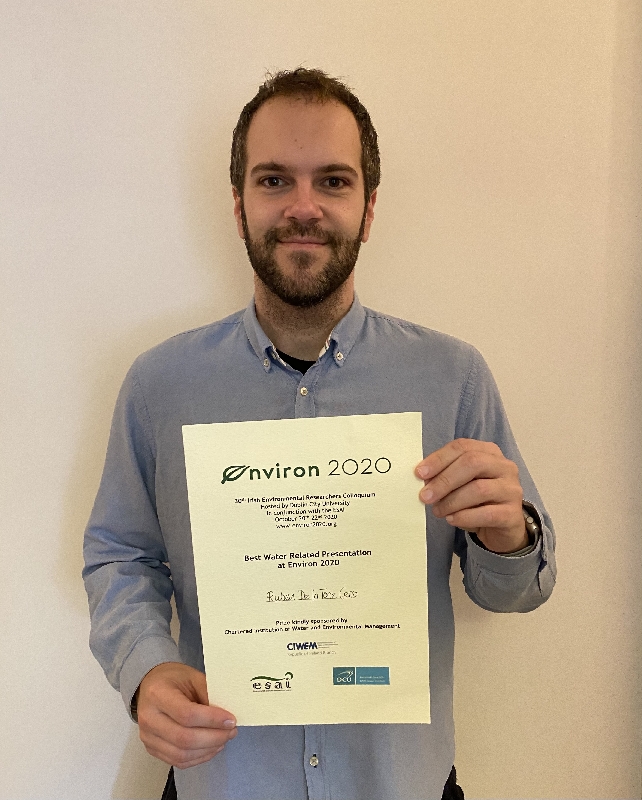 Ruben De la Torre Cerro, UCC – Quantifying phenological mismatches: Climate change drivers and their impacts on biotic interactions through different trophic levels in Ireland
Read more about Ruben's research
Best Wastes & Resources Management Presentation (€250 & 12 month CIWM student membership) sponsored by Chartered Institution of Wastes Management (CIWM)
Ross O'Sullivan, CIT – The Challenges of Beneficially using Dredged Sediment in Ireland
Richard Fitzgerald Prize for Best Aquatic Environment Poster (€250) sponsored by AquaTT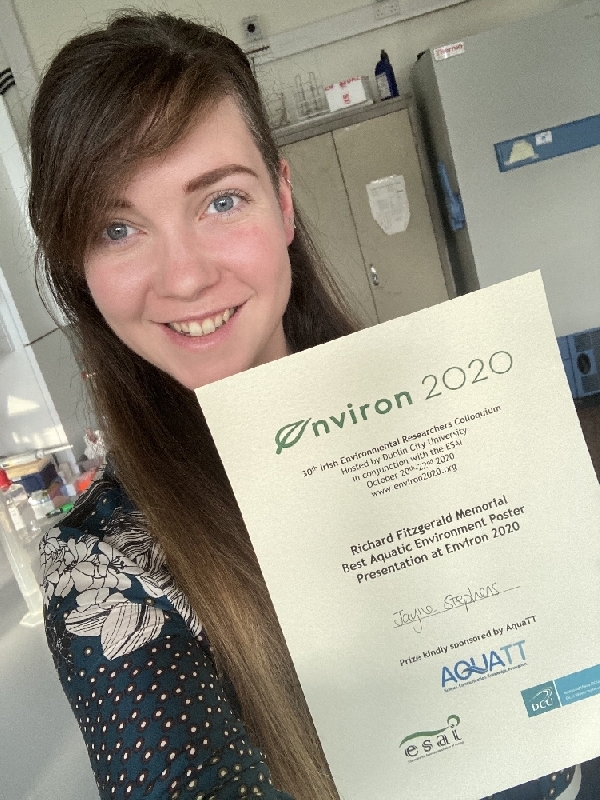 Jayne Stephens, UCD – Tide: A driver of faecal indicator bacteria levels in bathing waters
Read more about Jayne's research