Environ 2022 32nd Irish Environmental Researchers Colloquium

The 32nd Irish Environmental Researchers Colloquium, themed 'Unlocking Sustainability', was hosted in the band new Ulster University Campus in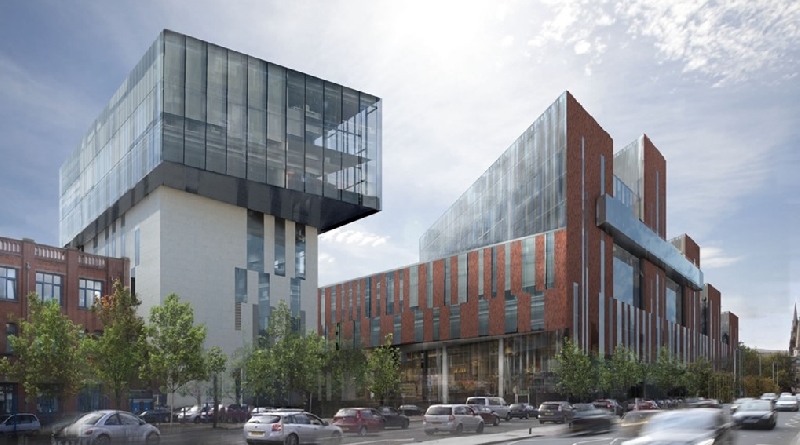 Belfast. The meeting was one of the first face to face events to be hosted following the COVID pandemic and we welcomed over 175 delegates from all over Ireland with an interest in environmental researchers. Delegates were drawn from academia, government bodies and industry.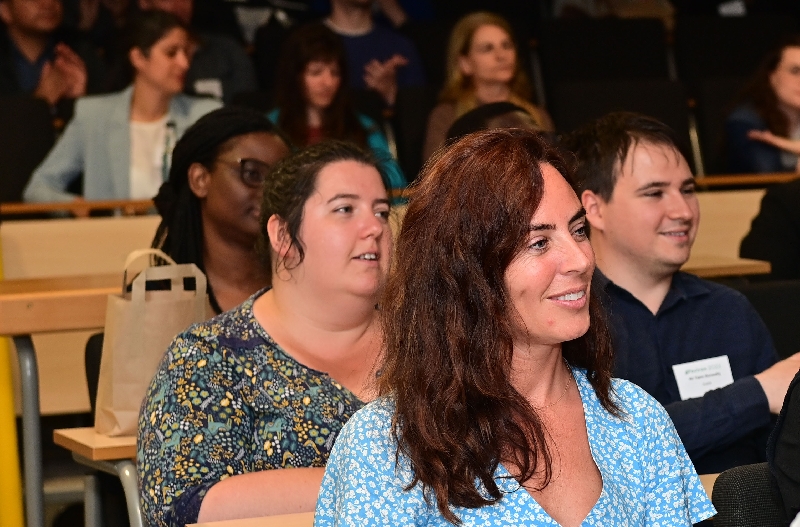 The conference will began on Monday 20th of June with a morning field trip to the Giants Causeway which is a UNESCO World Heritage Site. Delegates enjoyed the trip including lunch at the Bay View Hotel in Portballintrae, followed by the Giants Causeway visitors centre and a walk along the causeway in beautiful weather. In the afternoon some delegates participated in the 'Our Place in Space' following the solar system through an 8.4 km trail along Divis and Black Mountain. We also hosted a dedicated citizen science workshop sponsored by CIEEM.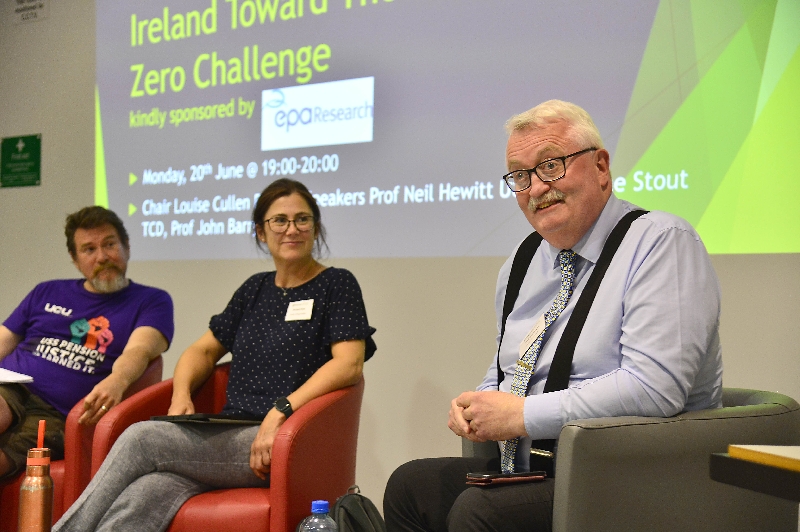 On Monday evening we hosted a public engagement event 'Ireland towards the net zero challenge' in collaboration with the Northern Ireland Science Festival. The expert panel was made up from Professor Jane Stout from Trinity College Dublin, Professor Neil Hewitt from Ulster University and Professor John Barry from Queen's University Belfast. The panel session and debate was chaired by Louise Cullen, BBC Environment Correspondent. Presentations from the experts were followed by questions to the panel and a lively debate ensued on the complex interplay between climate action, energy needs and the cost of living. This was followed by a wine reception at 8 pm where the panel members, members of the public, government representatives, and Environ delegates were able to relax and network.

The formal conference opening took place on the morning of Tuesday 21st June with welcome and introduction from the Deputy Vice Chanchellor at Ulster, Professor Paul Seawright, followed by Mr Tim Brundle, Director of Research and Impact at Ulster, and Dr Liam McCarton, President of the ESAI council. The first plenary lecture was from Professor Jane Stout from Trinity College Dublin on Climate Change and Biodiversity in Ireland. This was followed by the first of three poster sessions and meet the exhibitors, along with refreshments. The conference then broke into four parallel sessions focusing on key themes reflecting the diversity of outstanding research that is taking place on the island of Ireland and beyond. The conference dinner was held on the evening of Tuesday 21st June in the Hilton Hotel Belfast, with a drinks reception and harpist, followed by an excellent dinner and then music and much dancing.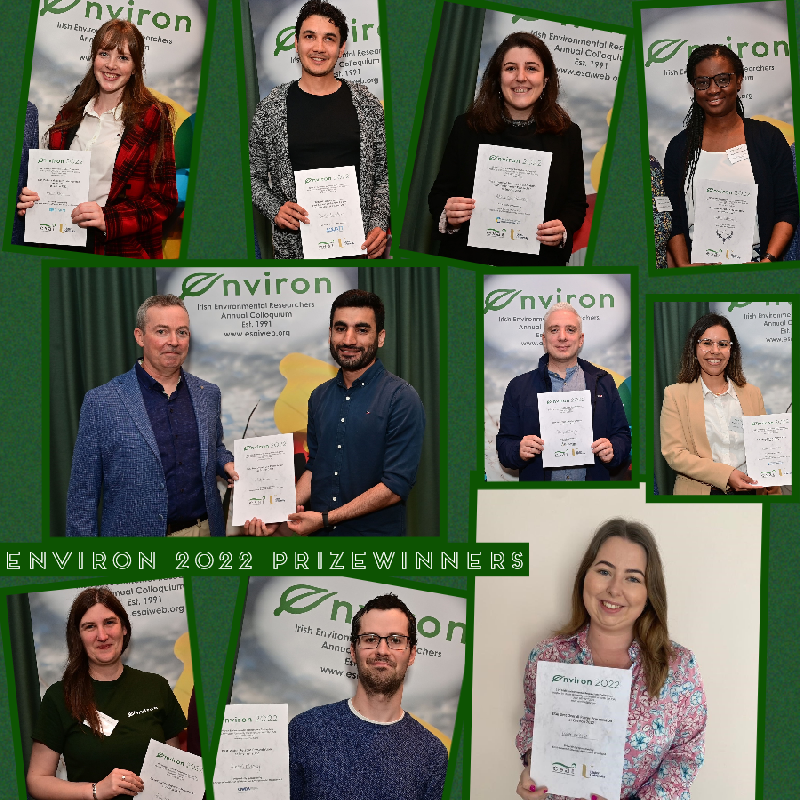 On Wednesday 22nd June, the second plenary was presented by Professor Neil Hewitt, Ulster University, focusing on Emerging Technologies Towards Net Zero. Delegates then broke into parallel sessions before coming together again at 2 pm for the closing and awards. There were 10 awards for presentations from a range of different sponsors including ESAI, Environmental Services Ireland, Eurachem Ireland, RSC Northern Ireland Section, RSC Chemical Nanoscience and Nanotechnology Interest Group, CIWM, CIWEM, AQUATT, and the Irish Naturalists Journal.
Environ 2022 had a special international dimension with delegates from Colombia, Mexico and Brazil presenting at a session dedicated to addressing the challenge of Water for the Global South. A second international session focused on the Water Energy Nexus with eight PhD researchers from the H2020 MSCA EID REWATERGY project presenting their research. With 2 plenary, 5 keynote, 77 oral and 44 poster presentations, ENVIRON 2022 was a very successful event enjoyed by all.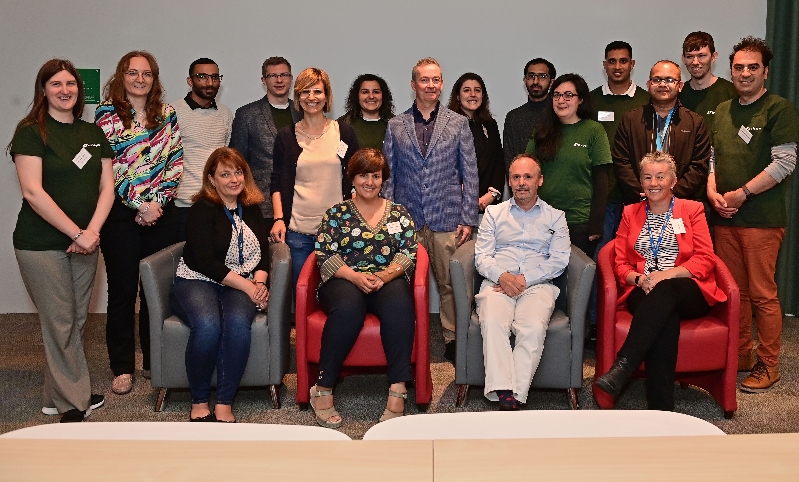 We would like to thank all of our sponsors for supporting ENVIRON 2022 and making it a successful meeting. Particular thanks to our Diamond Sponsors EPA Research and Ulster University Research and Impact, our Platinum Sponsors SEAI, Marine Institute, UCD Earth Institute, Cement Manufacturers Ireland, National Parks and Wildlife Services, Our Gold sponsors Intertrade Ireland, Irish Environmental Network, CIEEM, COILLTE, ZWAI, Premier Scientific, MAST Construction, and our Silver Sponsors, Cork City Council and iCRAG.
Prof Tony Byrne & Dr Pilar Fernandez-Ibanez
Environ 2022 Conference Co-Convenors, Ulster University