Environ 2021 31st Annual Irish Environmental Researchers Colloquium

31st Irish Environmental Researchers Colloquium
Healthy Planet, Healthy Communities
The 31st Irish Environmental Researchers Colloquium (ENVIRON 2021) was a collaboration between the Environmental Sciences Association of Ireland (ESAI) and the Environmental Research Institute at University College Cork and hosted online by the Environmental Research Institute in University College Cork from June 16th to 18th, 2021. This was the second year running that ENVIRON took place remotely, but with the help of a team of organisers and utilisation of a user-friendly online platform, feedback from the event was very positive!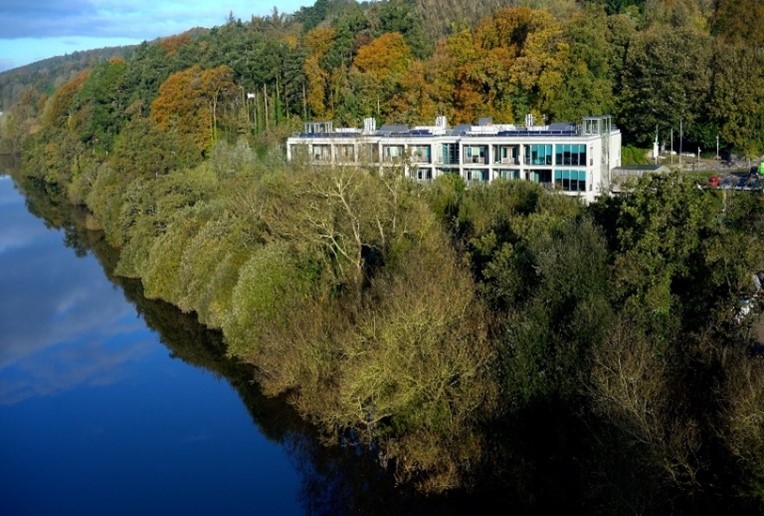 Over the course of the three days, 300+ attendees wove in and out of 21 oral presentation sessions and three poster sessions. This year, we welcomed new topics such as Environmental Geoscience and Environmental Engineering to build on the diverse range of topics previously hosted at ENVIRON.
The theme of this year's event was "Healthy Planet, Healthy Communities", honouring the intrinsic link between the natural environment and human health. Throughout the event, delegates had opportunities to engage with researchers across the country, discuss the conference theme and develop solutions and strategies to key environmental issues in Ireland.
ENVIRON 2021 was greatly benefitted by the addition of world-class experts, who added insight, discussion and food for thought through keynote and plenary sessions. On June 16th, Kate Raworth, author and pioneer of Doughnut Economics, coupled with Roisin Markham of the Irish Doughnut Economics Network provided a fascinating and enlightening 'Co-Note' session answering the question "Can Ireland thrive within the Doughnut?" This highlight event was open to the public as well as ENVIRON delegates and sparked stimulating discussion among attendees. This event was also supplemented through the talent of Eimear McNally, who created a live graphical depiction of the session.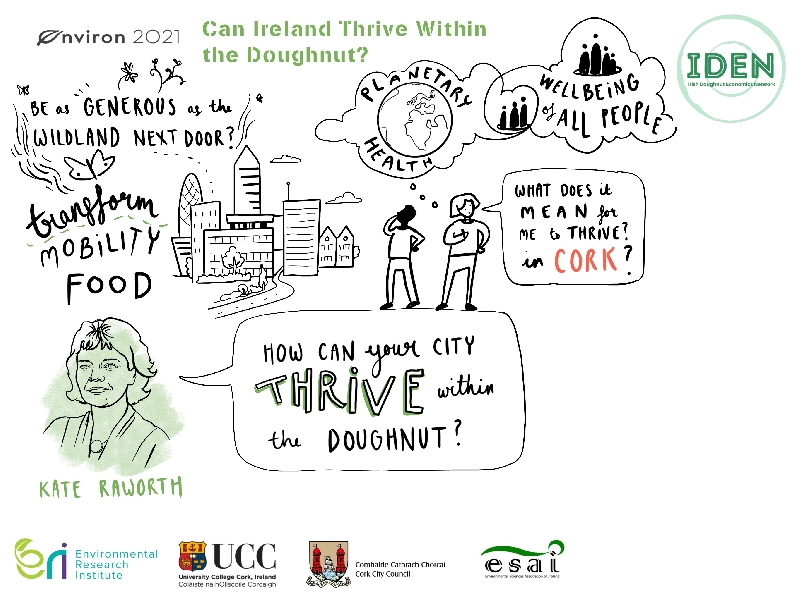 On June 17th, both ENVIRON delegates and the public had a further opportunity to liaise with both national and international experts as we discussed the conference theme through a plenary session and live Q&A. Prof. Paul Ekins of University College London, Ms. Denise Cahill of Cork Healthy Cities and Dr Ina Kelly of the Health Service Executive provided a lively discussion of how the environment impacts human health, at the local and not-so-local level. Attendees were left with a message of hope for the future through collective initiatives like the Sustainable Development Goals and the inspiring work undertaken in Cork and other local settings.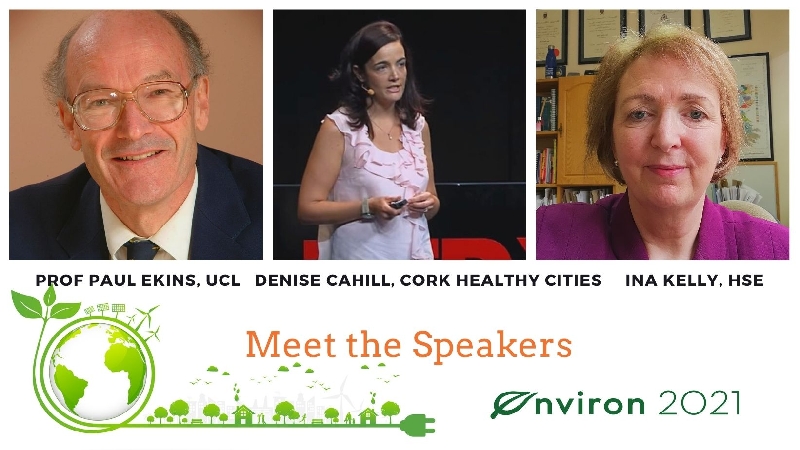 ENVIRON delegates were also able to avail of a suite of workshops, both formal and informal, over the duration of the conference and in the lead up. Dr. Hugh Kearns provided an excellent workshop on "Presenting Your Research With Confidence" on May 24th, which allowed presenters to put their best foot forward during the event. On June 18th, delegates got a taste for sustainability and could choose to liaise with Dr. Paul Bolger, Connor McGookin and Evan Boyle for a "Collaborating For A More Sustainable Society" workshop or interact with Dr John Barimo and Dr Darren Reidy during their "Enriching Research and Curricula Through The U.N. Sustainable Development Goals (SDGs)" workshop. Both events were very well received by those in attendance. Scattered throughout the conference were 'icebreaker' sessions, where delegates could unwind and have some fun doing crosswords, solving global challenges(!) or attempting to draw their research!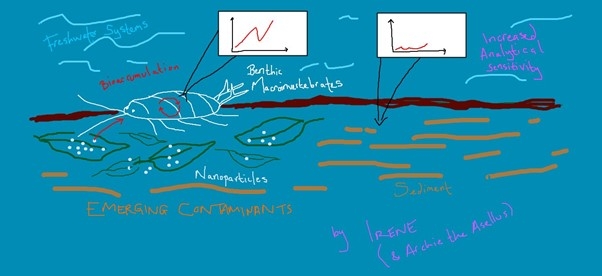 Adding to the fun, ENVIRON also hosted its third quiz night. Hosted by Dr Niamh O'Sullivan and Dr John Gallagher, the evening event was an opportunity to let loose, meet other people and test your environmental, and as it transpired, song lyric knowledge.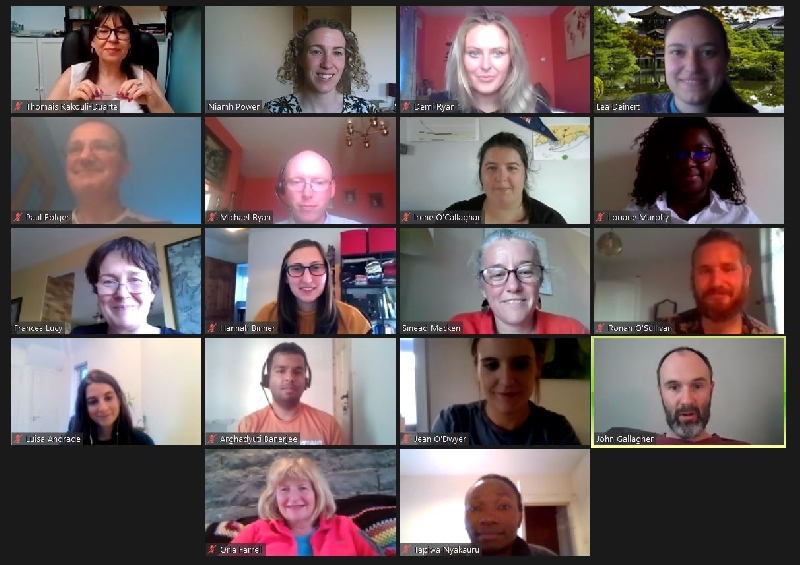 The ESAI also held their AGM and invited ESAI Postgraduate of the Year Sean O'Connor from IT Sligo to give a short talk about the award and his research. ENVIRON 2021 concluded with a prize giving ceremony with the various winners listed below. Congratulations to all. The prizes and winners at Environ 2021 were: Best Oral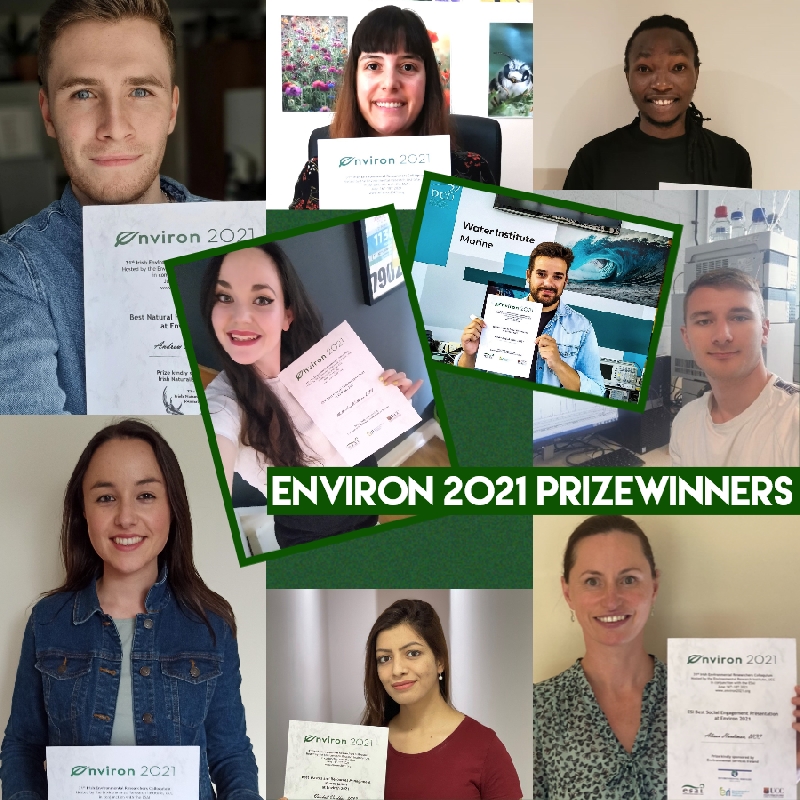 Presentation - Molly Ann Williams (DCU), Best Poster Presentation – Adrian Delgado Ollero (DCU), Best Postdoctoral Presentation – Dr Martin Boudou (TU Dublin), Best Environmental Geoscience Presentation – Niamh Faulkner (TCD), Best Wastes and Resources Management – Vaishali Vardhan (UCC), Best Social Engagement Presentation – Alison Hardiman (UCC), Best Ecology Presentation - Elena Zioga (TCD), Best Water Related Presentation – Brigid Hooban (NUI Galway), Best Natural History Presentation – Andrew Neil (TCD), Best Analytical Chemistry Poster – Dylan O'Flynn (DCU), Richard Fitzgerald Memorial Prize for Best Aquatic Environment Poster – Tapiwa Nyakauru (WIT). Click here to find out more about the research being conducted by our prizewinners.
Overall, ENVIRON 2021 was a huge success and proved to be a continuingly important opportunity for likeminded researchers to come together in a safe and enjoyable environment to learn more about scientific research in Ireland. On behalf of myself and the organising committee, I would like to thank all those involved in the event, from delegates to droppers by. We look forward to meeting some of you again at ENVIRON 2022.
Jean O'Dwyer
Dr Jean O'Dwyer, Dr Timothy Sullivan, Dr Paul Bolger, Dr Aoife Corcoran
Environ 2021 Conference Co-Convenors, Environmental Research Institute, UCC.
Follow us on Facebook | LinkedIn | Twitter for regular updates on Environ 2022 and all other ESAI events and activities.