ESAI Grassroots Awarded Workshop - Tales from the Land
With excitement the team from The Green Step would love to invite you to the closing ceremony and community meet up for Tales from the Land on Sunday July 18th from 2-6 pm. They'll meet in the Magic Forest near Ballydehob, West Cork. They're running it gift economy style so the event is free but we request that you bring a gift - this can be a song, dance, poem, food to share, wood for the fire or anything else you can think of. The theme is 'How are you deepening your connection to the land?' Having listened to the podcast is not a prerequisite but if you wish to you can here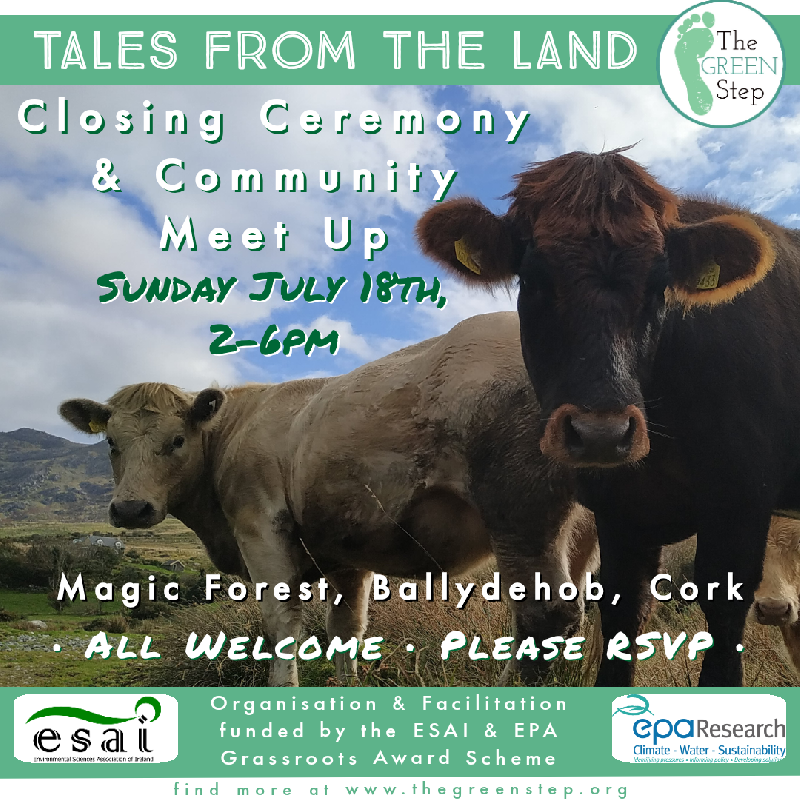 The founder of the space, Thomas, has done lots of work to create a beautiful sound healing scape in the forest and he'll share with us about the space and his vision as we begin. Then John and Melanie will share some insights from the podcast inquiry and then they'll open the space for people to share their offerings and Tales from the Land with the community.
Parking is limited so they'll need you to RSVP so we can arrange for everyone to get to the location with carpools, ect. If you can walk or cycle even better! Bringing friends or beloveds is more than welcome - kids too! They'll be COVID compliant and take temperature and details as people arrive. They'll be outside so no masks required then but they will be needed for carpooling, with open windows to and from the site where necessary. Spaces are filling up fast so please RSVP to thegreenstep3@gmail.com to book your free spot!
____________________________________________________________________
Tales from the Land is a living research inquiry into land use, farming, food production and living well with the land in 21st century Ireland. Over 10 weeks the folks at the Green Step are meeting with a whole range of different contributors in their 10 podcast episodes (launched each Saturday) and live community event on June 4th 7-9pm supported by the ESAI Grassroots Award scheme funded by the EPA. The Green Step are welcoming you to join them for the exploration book here.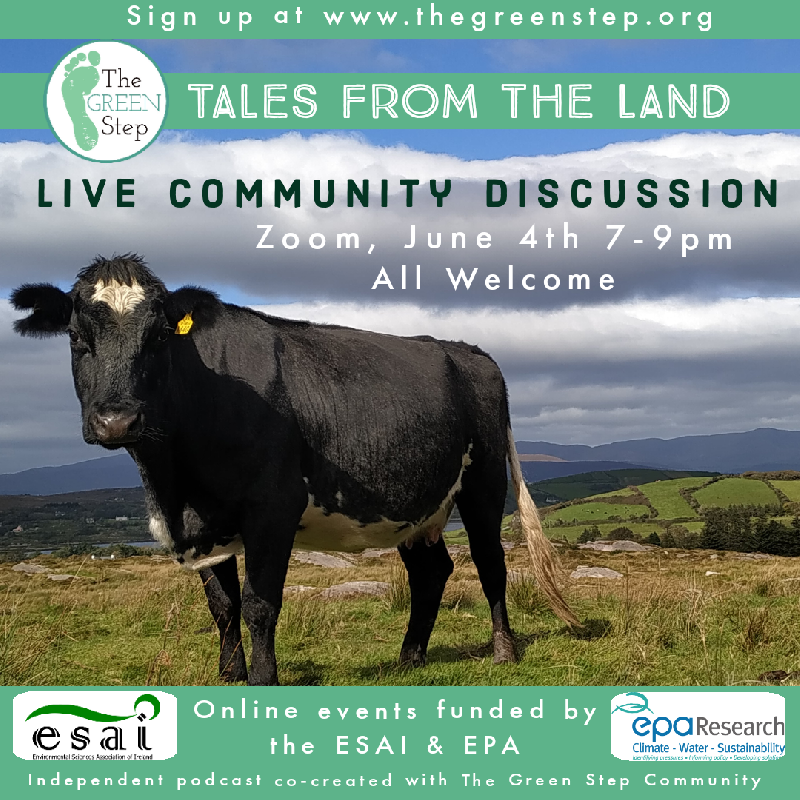 The Green Step are using the arts of conversation and storytelling to weave a vision for the future here in Ireland. Episode one includes a retelling of the salmon of knowledge with hosts John and Mel. They are listening and learning together and co-creating with the community along the way. They will bring what emerges to the agri-food policy consultations on the environment by the 15th of June.
Whether you are listening or speaking with them you are involved in this inquiry. They are asking for folks to send in their own tales from the land, ideas and visions for a sustainable, just and prosperous future to thegreenstep3@gmail.com
Find out more here