Calling All Members - ESAI AGM 21st June 2022
The AGM of the ESAI will be held during our annual conference Environ 2022 in Ulster University.
Date: Tuesday 21st of June 2022
Time: 17:30 – 18:00
Location: Ulster University Belfast Campus, Conor Lecture Theatre, BA-01-009, First Floor, Birley Building, York Street.
Agenda: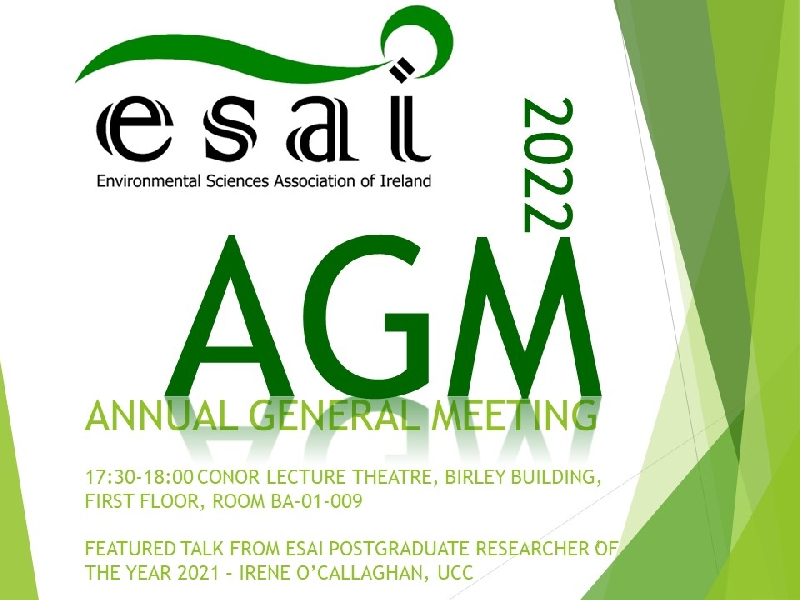 • Minutes of last year's AGM
• Chairperson & Secretary Report
• Treasurer's Report
• ESAI Council Elections
• Any Other Business
Guest Speaker:
Irene O'Callaghan, UCC will give a 10 minute presentation on her research which saw her win the 2021 ESAI Postgraduate Researcher of Year Award. Irene's research has focused on the development of a novel technique to improve the detection and quantification of emerging contaminants within the freshwater environment. Many congratulations to Irene, and we look forward to hearing more about her research!
There will be a number of ESAI Council positions up for election. Please forward a short biography (200 words) to administrator@esaiweb.org if you wish to be put forward for election.