Prize Winners at Environ 2022
Growing from strength to strenght over the years the ESAI run student competition at Environ is a great opportunity for students to gain recognition for their presentation skills. This year we had over €2,750 in prizes to award for the best student presentations at the Environ Colloquium.
Prize winners were announced at the close of conference ceremony. Each winner is invited to submit an article on their research project to the ESAI Website and the ESAI Newsletter, and receive publicity from their sponsor.
Environ 2022 Prizewinners:
• ESAI Best Oral Presentation (€500) sponsored by Environmental Sciences Association of Ireland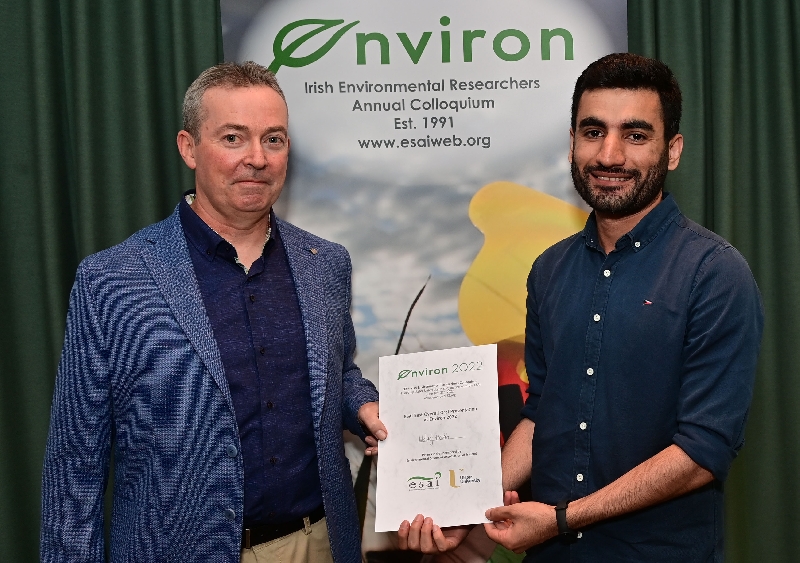 Wahaj Habib, TCD for his oral presentation titled Mapping vegetation communities on Irish raised bogs using PlanetScope imagery and Google Earth Engine
Read more about Wahaj's research here
• ESAI Best Poster Presentation (€250) sponsored by Environmental Sciences Association of Ireland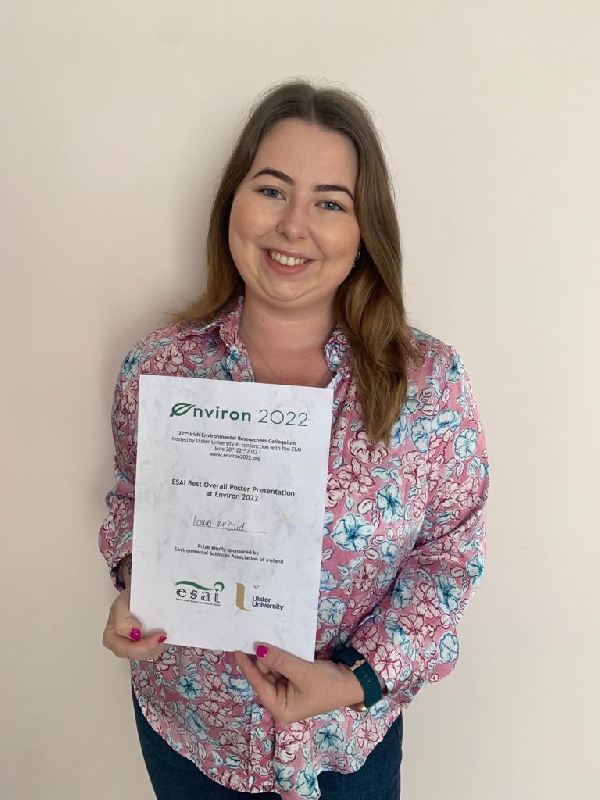 Laura McDaid, ATU Donegal for her poster, Irish Faba Beans as a sustainable food source
Read more about Laura's research here
• Best Wastes & Resources Management Presentation (€250 & 12 month CIWM student membership) sponsored by Chartered Institution of Wastes Management (CIWM)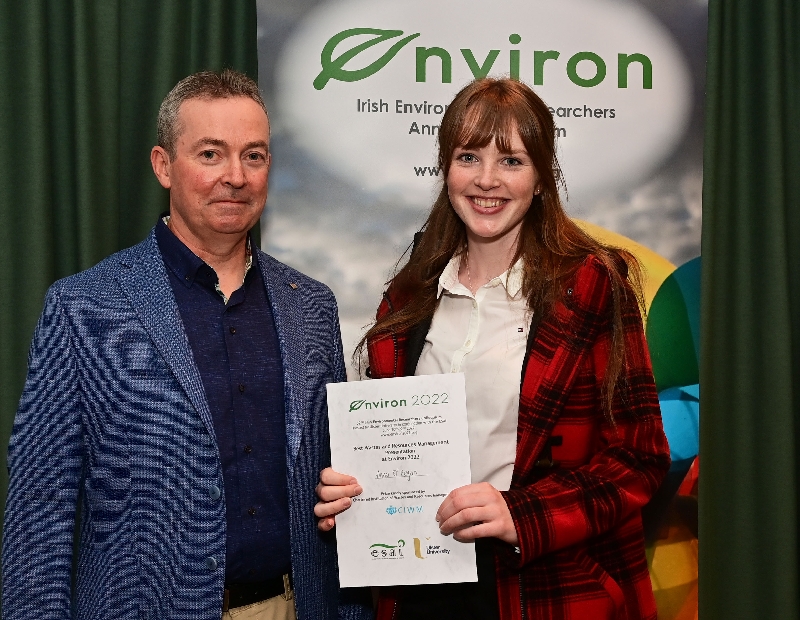 Anna O'Regan, UCC with her talk titled Associations between Urban Greenspace and Particulate Matter Air Pollution
Read more about Anna's research here
• Best Water Related Presentation (€250) sponsored by Chartered Institution of Water and Environmental Management (CIWEM)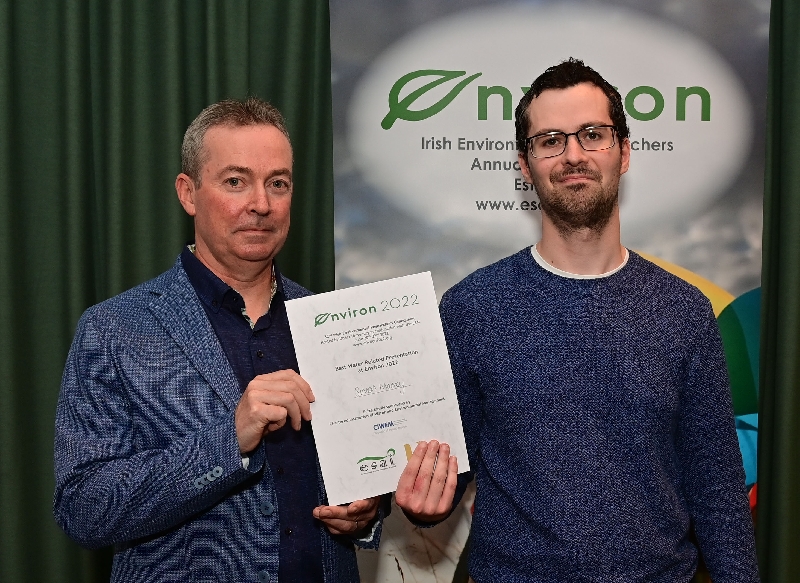 Simon Mooney of TU Dublin for his talk, Pathways to private well management: A structural equation modelling approach
Read more about Simon's research here
• Best Social Engagement Presentation (€250) sponsored by Environmental Services Ireland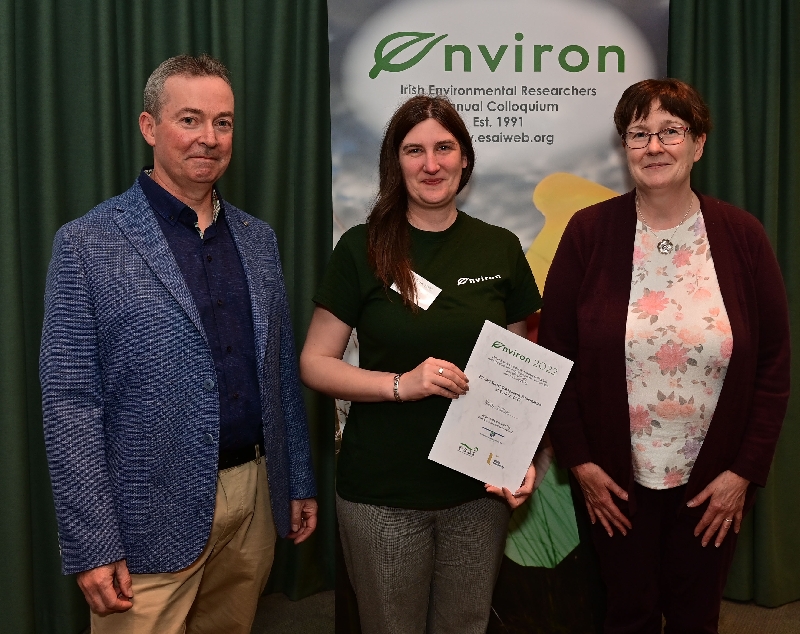 Nicola Watson, Ulster University for her oral presentation, Time for a Nappy Change: controls affecting families' nappy choices
• Best Natural History Presentation (€250) sponsored by Irish Naturalists' Journal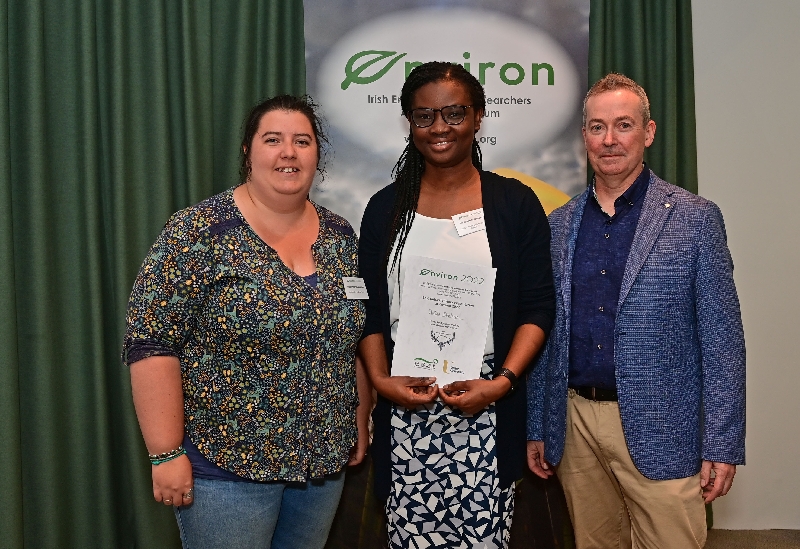 Omotola Odetayo, Wageningen University and Research Centre for her talk, Can multispecies grasslands simultaneously improve herbage productivity and micronutrient uptake?
• Best Nano-Related Presentation (€250) sponsored by the Royal Society of Chemistry Chemical Nanoscience and Nanotechnology Interest Group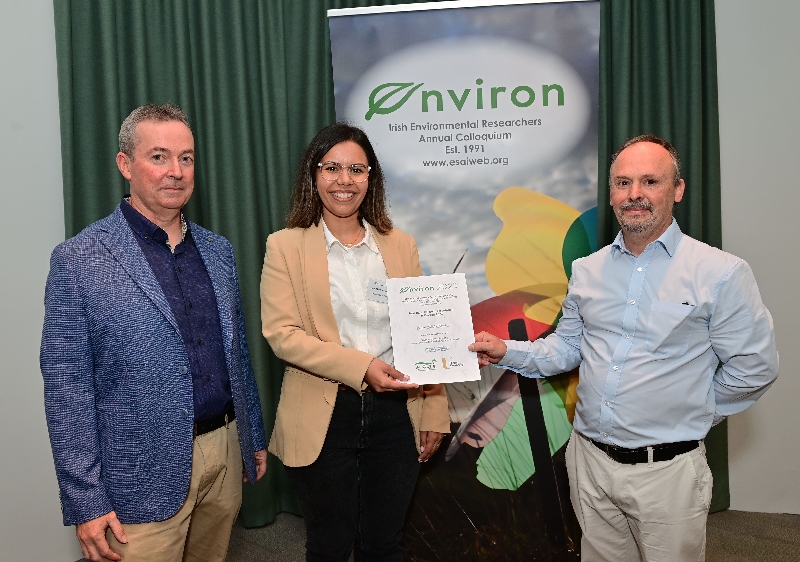 Marina Avena Maia, University of Cambridge for her talk titled Phosphate capture by atomic layer deposition-based materials
Read more about Marina's research here
• Best Early Career Researcher Oral Presentation in Chemical Sciences (€250) sponsored by Royal Society of Chemistry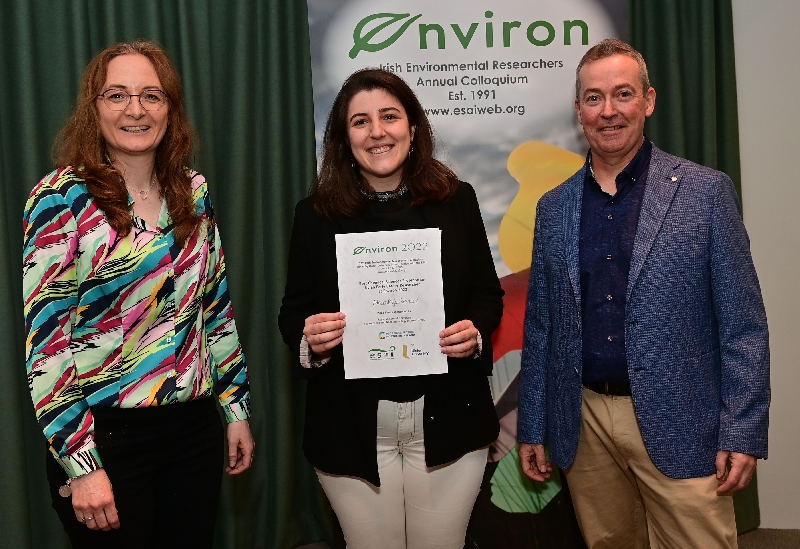 Adriana Rioja Cabanillas, Ulster University for her talk, WO3 photoanodes for the oxidation of urea in wastewater and hydrogen production
Read more about Adriana's research here
• Best Analytical Chemistry Poster (€250) sponsored by Eurachem Ireland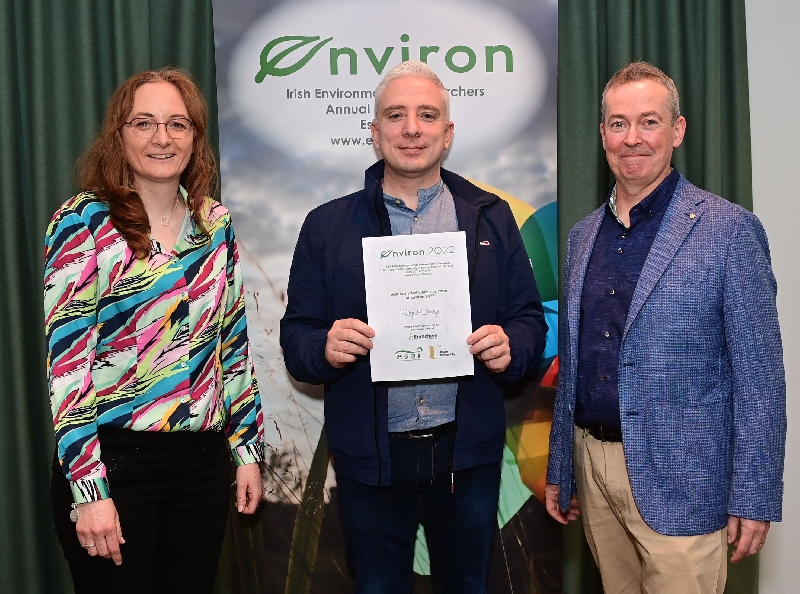 Padraig McDonagh from ATU Donegal for his poster presentation In-situ electrochemical determination of 2,5-diformylfuran from the photocatalytic oxidation of 5-hydroxymethylfurfural
Read more about Padraig's research here
• Richard Fitzgerald Memorial Prize Best Aquatic Environment Poster (€250) sponsored by AquaTT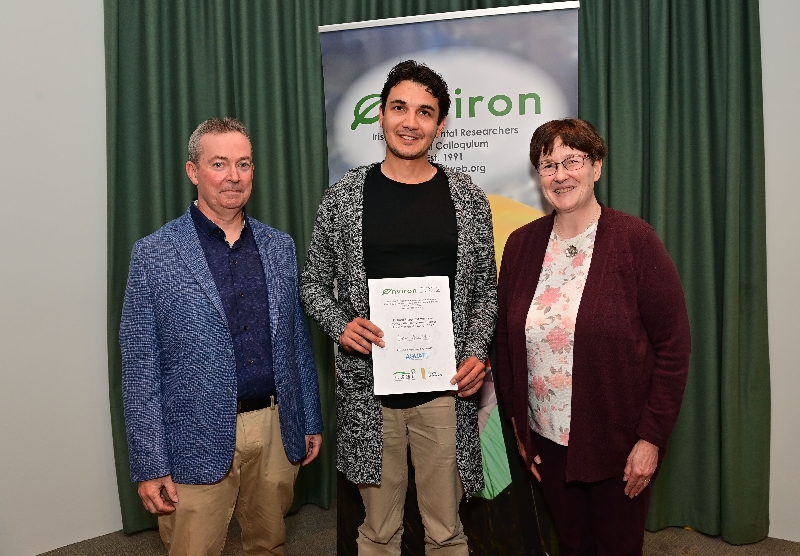 Damir Akhmetshin, SETU Carlow for his poster presentation Unmanned aerial vehicles for mapping seaweed: RGB and multispectral sensors.
Read more about Damir's research here
Richard Fitzgerald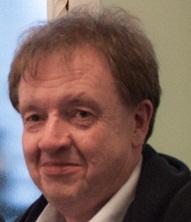 Richard was an exemplary fisheries zoologist. He was an excellent researcher and a gifted and inspiring lecturer. A UCC graduate [BSc and PhD], Richard was involved research and development in Aquaculture for almost 30 years in a variety of roles and posts in UCC, AquaTT and NUIG. He was also extremely interested in natural freshwater and marine fish populations, with a rare and extensive knowledge in both aquatic environments developed over the span of his career. He published over thirty peer reviewed publications, which are widely cited. Until the end of 2015, he was Research Co-ordinator and manager of the NUIG aquaculture research lab at Carna.
Richard was blessed with an insatiable curiosity about all research, particularly in the aquatic environment and the highlight of his annual visit to Environ was the poster sessions. His rule of thumb for all his students and employees was that they could go to any relevant conference as long as they produced a poster! Richard sadly passed away on December 5th 2016. Thank you to AquaTT for sponsoring the Richard Fitzgerald prize for best poster in Aquatic Environment.
Judging Criteria for Presentations
Following the links to download the judging scorecards for Oral and Poster presentations.
Check out some of the previous Environ student competition winners and Environ 2021 Winners